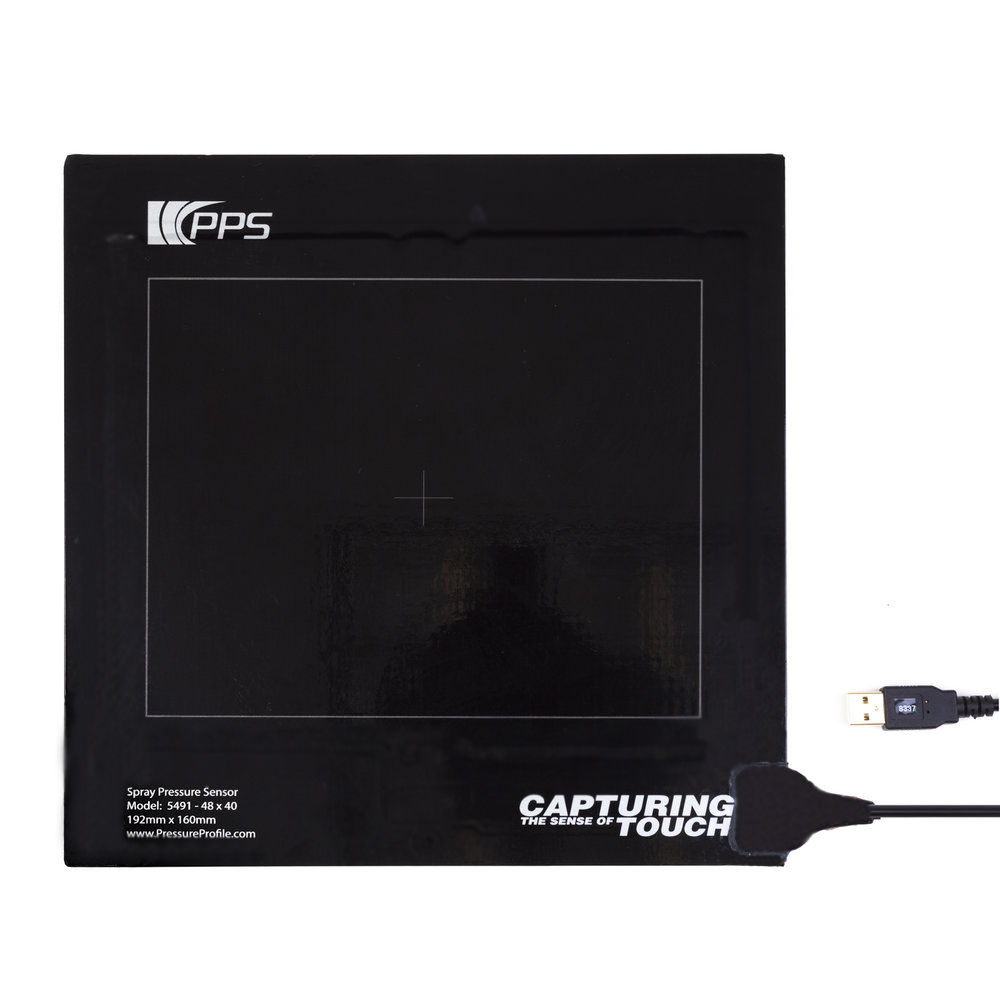 Spray Pressure Sensor
The spray sensor is a sensitive, waterproof capacitive tactile sensor array designed to capture instantaneous and actionable spray pattern and spray pressure data generated by sprayed fluids or gases.
The Spray Pressure System captures distribution and impact pressure. The Spray Pressure System accurately identifies the location where sprayed fluid or gases land, by comparing electrical properties of the air surface to that of the spray. This technology is optimal for use in situations where spray pressures are infinitesimally small.
Features:
Live data output for on-the-spot analysis and refinement

Detect spray pressures of fine mists, pressure jets, and everything in between with accurate pressure measurement from 3 psi - 20 psi

Detect spray patterns even in situations where the spray has no measurable pressure with our proprietary sensing capabilities that compare the electrical properties of the air surface and spray

High sampling speed matches or exceeds the speed at which the discrete spray particles impact the surface, ensuring accurate capture of the full spray experience

Waterproof (IPX4 Rated)

Comes standard with our advanced but intuitive Chameleon Visualization Software.
Spray Pattern Sensor
The Spray Pattern Measurement System is a first-of-its-kind large, high-speed sensor mat designed to visualize and characterize accumulated fluid deposition information for spray processes and is able to identify where a sprayed fluid or gas actually land.
The Spray Pattern Measurement System was designed for manufacturing, process engineers and researchers who are working with spray and/or coating processes involving very fine mists and who need to understand specific spray patterns as part of a manufacturing or coating process to control the quality of the finished product.
Many spray process requirements are met only through "trial and error", meaning numerous adjustments to achieve a desired result. PPS's Spray Pattern Measurement System addresses this problem by digitizing, visualizing, and quantifying fluid deposition patterns that enable real-time feedback and electronic records for comparison and analysis, providing new levels of insight into spray and coating processes.
Features:
High resolution array sensor images the amount of fluid deposited over an area and provides instantaneous feedback for quick adjustments or analysis.

Ability to measure fluid deposition even for applications in which pressure is infinitesimal.

Waterproofed Sensor Mat capable of providing valuable data under any spray process conditions. This data shortens development time and helps improve the quality and cost of products and processes.

High performance capacitive sensing technology saves time and improves results by significantly reducing recalibration and repeated tests allowing developers to resolve problems and answer questions faster.

High speed USB 2.0 interface provides latency-free results.

Chameleon Visualization Software provides intuitive, easy to use, high-quality visualization and easy access to data for analysis and export to other applications.
Applications
Semiconductor: Ensure spray tools used to clean materials have uniform pressure distribution to reduce contamination and damage

Testing: Test force of pepper spray to ensure doesn't cause impact injury

Automotive: Measure impact pressure of water on vehicle underbodies in driving over puddles

Cosmetics: Measure and refine spray distribution of a perfume atomizer
Automotive
Application
Impact pressure testing of water sprayed when cars drive over puddles
Customer:
Multinational automotive manufacturer
Challenge:
Past solution used several single elements sensors placed in various locations and on engine components making it difficult to determine the peak water pressure

The sensors height (20mm) was disruptive to the water flow.
Solution:
PPS Spray Pressure Sensor System
Benefits:
Informs designers and engineers on the optimum location of water sensitive parts such as the radiator, suspension and exhaust tubes for successful long-term operation

High resolution array where thousands of points could be measured

PPS' Spray Pressure Sensor was extremely thin and did not interfere with the experiment.
Application
Capture moisture spray patterns for consumer hand sprayers
Customer:
One of the largest consumer goods companies in the world
Challenge:
Moisture pressures are so low that it is difficult to measure.

In some situations, there simply isn't enough pressure to measure, even when using a highly sensitive membrane-type sensor.
Solution:
Benefits:
Enables the assessment of spray distribution for the light mist emitted by hand sprayers.

Quantify how much fluid is deposited on the sensor and in what pattern.

Designers can quickly and efficiently improve product designs to achieve optimal results
Application:
Silicon Wafer Cleaning System
Customer:
One of the largest Semiconductor companies in the world
Challenge:
Harsh industrial manufacturing conditions

Very low pressures

High resolution sensor required
Benefits:
The Spray Pressure Sensor Ensures uniform pressure distribution resulting in contamination reduction.

Optimizing the pressure distribution reduces damage to nano-structures on the silicon wafers.
Spray Sensor Presentation - Sensors Expo Conference 2018